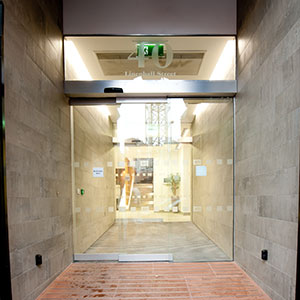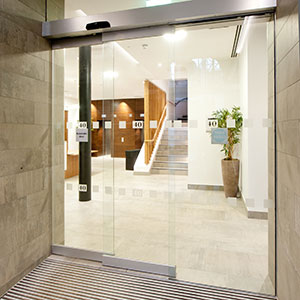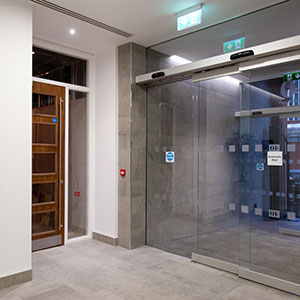 Sector: Commercial, office development
Solution: Door Automation
Location: Belfast
The refurbishment of 40 Linenhall Street in Belfast gave our Access Control and Door Automation department a real challenge in terms of the product we could specify.
The building is listed and used by a civil service department. The main entrance has heavy pedestrian traffic flowing through it at various times of the day.
The scope was to install an inner and outer automatic entrance system within a minimum structural opening and meet the clear opening dimensions required to achieve fire escape regulations. The architect wanted a solution that would be aesthetically pleasing but would be robust enough to withstand the amount of heavy use it would receive.
The solution was to supply and install a single sliding door operator incorporating glass doors and screens. The telescopic system features two doors opening in the same direction helping to achieve the clear opening required and gives a contemporary feel to an impressive historic building.
All work was carried out to BS EN16005 meeting legislative requirements and allowing safe access and egress for users.
You may also be interested in: UNITE the Union : Citizen M Hotel: Barkers Home Store case studies.