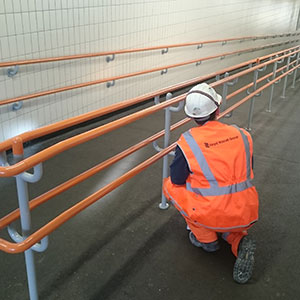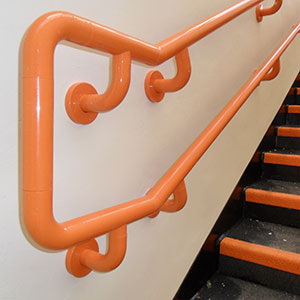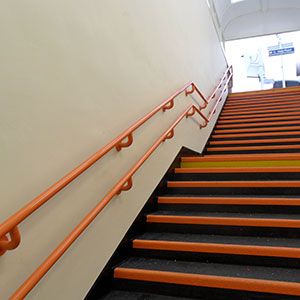 Sector: Commercial
Solution: Handrail and Balustrade
Location: London
Lloyd Worrall supplied and installed their modular handrail and balustrade system to London Overground Operations Ltd (LOROL).
LOROL required a modular system that was quick to install, easy to clean and simple and safe to use. The system also had needed to be aesthetically pleasing, durable and be "warm touch" in accordance with their requirements of the Equality Act 2010.
Lloyd Worrall's polyamide colour system was selected for the project due to its high durability, warm touch and scratch resistant properties.
Nylon is the ideal material for this high traffic environment where products will require a high degree of resistance to physical abuse. The handrail comprises a corrosion resistant steel inner core, giving it excellent structural strength and flexibility. The 5mm thick polyamide sleeve has a thermal conductivity value of 0.25w/mk, making it warm to touch.
Lloyd Worrall offer a choice of 15 colours for the nylon sleeve, allowing LOROL to select an option that complimented its corporate colours – orange handrails and light grey uprights.
You may also be interested in: Fishguard Primary School : Wharfdale View : Barkers Home Store case studies.