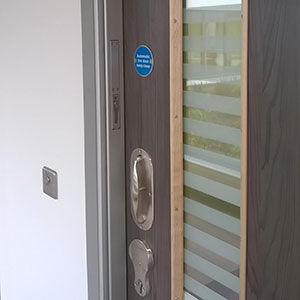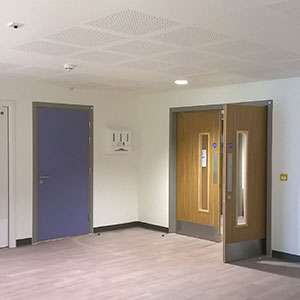 Sector: Health, acute mental health
Solution: Interspec Doorsets
Location: North Ayrshire
The Acute Mental Health and North Ayrshire Community hospital is a new-build health and elderly care facility. It contains 206 bedrooms with 11 inpatient wards, 3 support clusters and outpatient facilities.
Demands on healthcare facilities are complex. Lloyd Worrall had to achieve the high standards required for both patients and professionals.
Lloyd Worrall supplied 1071 Interspec laminate faced doorsets in light oak and coloured laminates all with birch lippings. Laminate doors are favoured in many healthcare environments as they are typically known for being exceptionally hard-wearing. These severe duty doorsets were the obvious choice for the hospital which will see the doorsets incur a severe frequency of use on a daily basis. Opting for birch lippings allowed for visibility and colour contrast.
In addition to our standard integrated ironmongery package we also supplied anti-ligature locksets and accessories. All the fire doors were fitted with floor springs to avoid a potential ligature point.
Lloyd Worrall also supplied Vistamatic vision panels with bespoke imagery in the new dementia facility. The images were specifically selected by the NHS Trust to help the patients to differentiate between the wards as well as signposting and ensuring patients can recognise their rooms more easily. Working closely with Vistamatic, the innovative design included over 40 unique images used on nearly 100 vision panels across the 3 separate wards.
You may also be interested in: Breathing Space : Somerton House case studies.