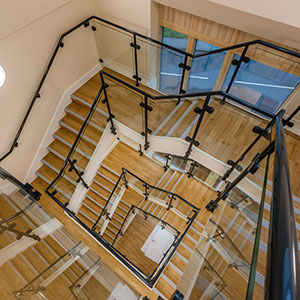 Sector: Health, residential care
Solution: Nylon Handrail and Balustrade
Location: Leeds
Wharfedale View is an Extra Care development in Yeadon, Leeds. The 45 apartments allow older people to keep their independence and have the reassurance of support provided by a 24-hour care team.
Great care was taken to ensure the Handrail & Balustrade system specified took into consideration the abilities of the end-users. It is important that the accommodation is fully accessible in accordance with the Equality Act 2010 while ensuring users can easily locate and use the system.
Our Handrail and Balustrade division supplied and installed 240 metres of Polyamide colour system to 2 staircases and 2 balconies. Polyamide is well suited to heavily frequented areas such as residential care homes. It is not cold to touch and offers colour contrasting.
"Lloyd Worrall recently completed the installation of glazed balustrading to a project at Yeadon in Leeds on behalf of Henry Boot Construction for Leeds City Council. From tender to completion Lloyd Worrall performed exceptionally well overcoming any issues that stood in the way. The client is extremely satisfied with the end result and together with Henry Boot would have no hesitation in recommending Lloyd Worrall for future projects."
Terry Jordan, Project Quantity Surveyor, Henry Boot Construction Limited
You may also be interested in: North Ayrshire Community Hospital : Breathing Space case studies.