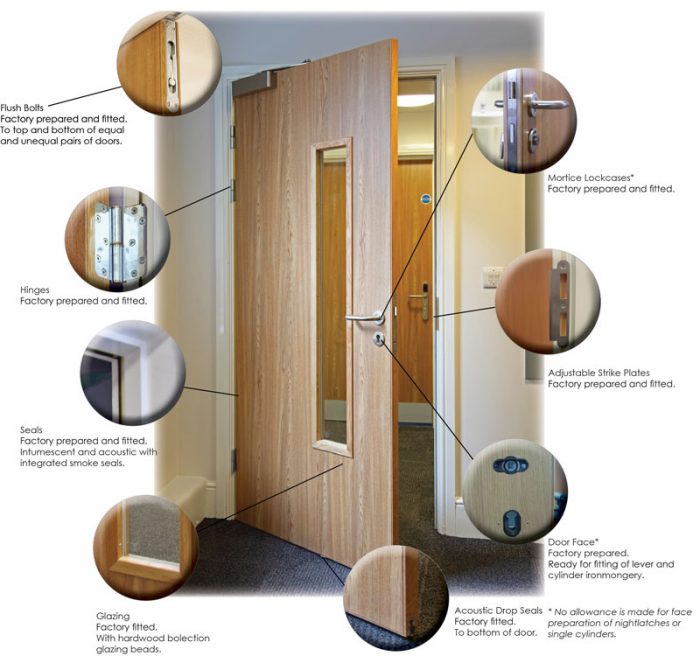 At Lloyd Worrall we have identified the need for a full high performance doorset inclusive of ironmongery and access control resulting in the following benefits to the customer:
All doors are DD171 severe duty rated as standard.
Frame sections are manufactured using engineered softwood for stability.
Delivery performance record is 99.1% on time, in full.
Minimum 10 year guarantee is offered on the complete doorset and ironmongery package (excluding electrical).
Full doorset, ironmongery and access control service, incorporating an experienced fully qualified team, dealing with specification, estimating, scheduling and project management.
Co-ordinated products ensuring complete compatibility resulting in the compliance with fire, smoke and acoustic regulations for all building and project types, reducing the risk of on-site failures due to uncoordinated components.
Factory preparation and installation of non-projecting ironmongery, including hinges, lock case, lock keep and flush bolts, ensuring accuracy is maintained under manufacturing systems control.
Reduced site installation costs, snagging issues and on-site waste. Doorsets reduce the potential for on-site health and safety issues concerning assembly and door ironmongery preparation.
Multi-supplier provision of doorset components can be costly, time consuming and inefficient. The Interspec Doorset provides manufacturing accuracy, quality and performance. This integrated package offers significant cost benefits when compared with traditional installation costs.
Door Core: Solid Core Flaxboard Core
Interspec Doorsets are manufactured from a flaxboard central core with timber stiles and rails to all four edges. They are sub-faced and edged and then faced (veneer or laminate).
The timber stile and rail system ensures complete compatibility for a severe duty performance and provides a secure and solid fixing for critical items of ironmongery.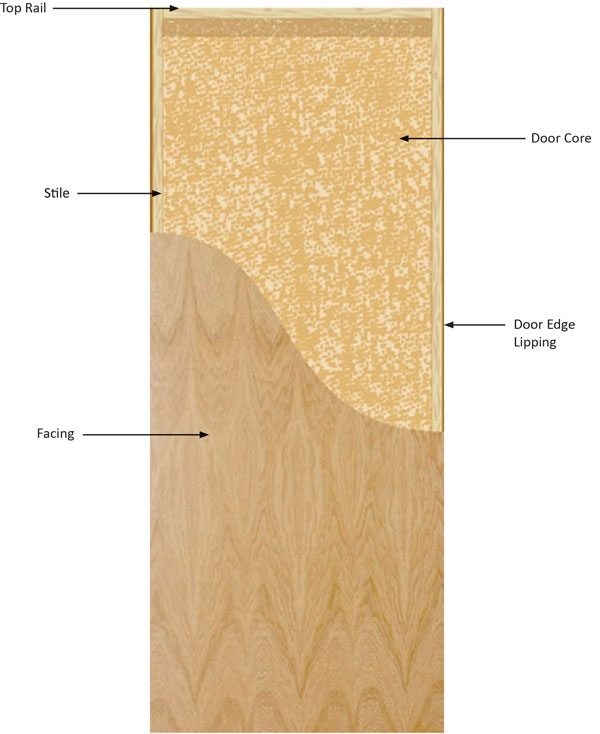 Interspec Doorset Performance
| | | | | | | | |
| --- | --- | --- | --- | --- | --- | --- | --- |
| Interspec Doorset Performance | Fire | Smoke | Acoustic Level | Surface Performance | Mechanical Strength | Intumescent Seals | Smoke Seals |
| Timber Doorset-Veneered | Yes | Yes | 30dBRw to 43dBRw | Medium Duty | Severe Duty | Yes | Yes |
| Timber Doorset-Laminate | Yes | Yes | 30dBRw to 43dBRw | Heavy Duty | Severe Duty | Yes | Yes |
| Timber Doorset-Fully Painted | Yes | Yes | 30dBRw to 43dBRw | Heavy Duty | Severe Duty | Yes | Yes |
| | | | | | | | |
| Standards | BS476 pt22 | BS476 pt 31.1 | BSEN ISO 140-3 BSEN ISO 717/1 | BS3962 EN438 | BSDD171 | BS476 pt22 | BS476 pt 31.1 |
Fire
FD30, FD60, FD90 and FD120 certified fire doors.
Smoke Control
Fire doors are also certified for smoke control (FD30S, FD60S, FD90S, FD120S).
Durability
A range of doorsets have been tested in accordance with DD171 and EN1192 resulting in a severe duty rating.
These specify the performance requirements for hinged and pivoted doors and classifies them by strength and durability based on four categories:
Light: Private dwellings.
Medium: Offices and dwelling with higher risk of damage.
Heavy: Hospitals and public buildings.
Severe: Educational establishments.
Acoustic rated doorsets require accurate sealing and installation to achieve the desired performance.
Sound Reduction – Frequency
The number of vibrations per second expressed in Hertz:
Low frequency (40Hz to 400Hz)
Medium frequency (400 to 1600Hz)
High frequency (1600Hz to 20000Hz)
Sound Pressure Level
The measurement of sound level in decibels (dB) with the sound reduction index (Rw).
Sound Reduction
The weighted sound reduction index is measured in accordance with:
EN ISO 140.3 (measurement of sound insulation in buildings)

EN ISO 717.1 (classification of sound insulation in buildings)
Sound Insulation
The Rw ratings are for the doorset only. Manufacturers sometimes provide sound insulation data as a combined rating for the wall and doorset. The actual Rw rating of the doorset should be calculated using a percentage of the wall area it occupies. The wall rating is generally higher than the required doorset. Please refer to the table below.
| | | | |
| --- | --- | --- | --- |
| Type of space used by students | Minimum Rw (dB) | Minimum Rw (dB) | Product |
| | Wall including any glazing | Doorset | |
| All spaces except music room | 40 | 30 | Rw 33 dB |
| Music Rooms | 45 | 35 | Rw 38 dB |
Threshold and Drop Seals
Threshold seals are necessary in order to maintain the required acoustic performance level.
A drop-down seal or wiper seals with a rubber threshold will achieve the requirement at floor level. Any acoustic performance is fully dependant on the elimination of sound penetration, the area between the wall and the back of the door frame must be fully sealed.
Interspec Doorsets offers a range of aperture styles designed to suit many applications. Additional options are available upon request. Cut outs for classified products are subject to maximum allowances in fire/sound certification.
Factory Glazing
As standard, doors are delivered glazed.

= Equality Act compliant vision panels.

= Interspec Doorset bim object available.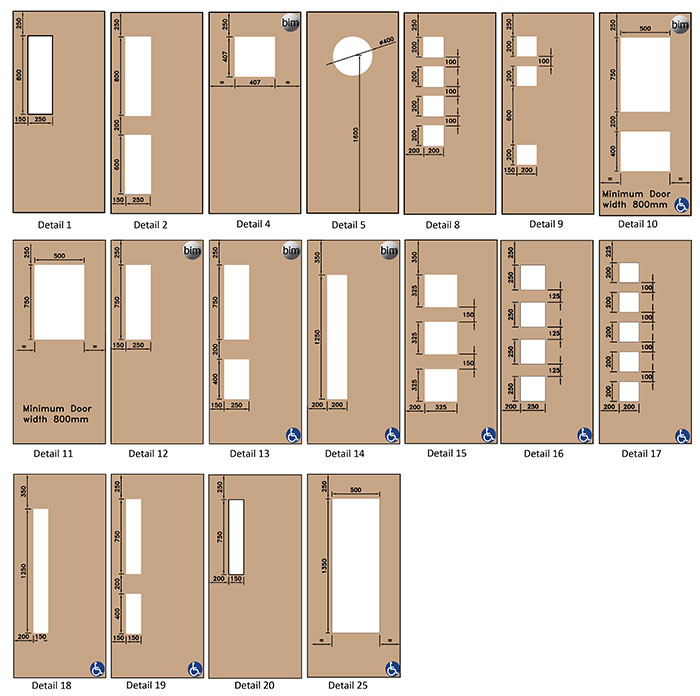 Glazing Bead Detail
Glazing bead is screw fixed as standard.
Glass thickness ranges from 6mm to 17mm dependant on performance.
Configurations and Sizes
The Interspec Doorset has an extensive range of configurations and styles. Regulatory compliance fit for purpose and safety are integral to the design whilst maintaining the desired aesthetic appearance and performance.
The table below outlines the standard configurations together with the basic dimensional principals of our doorset packages.
| | | | | | | | |
| --- | --- | --- | --- | --- | --- | --- | --- |
| Structural Opening | Door Type | Frame Size | Rating | Door Thickness | Door Leaf Size | Clear Opening Width Fig A* | Clear Width Opening Fig B* |
| 900 x 2100mm | Single | 886 x 2089 | NFR/FD30 | 40 | 825 X 2054 | 765mm | 701mm |
| 1000 x 2100mm | Single | 986 x 2089 | NFR/FD30 | 40 | 925 X 2054 | 865mm | 801mm |
| 1100 x 2100mm | Single | 1086 x 2089 | NFR/FD30 | 40 | 1025 X 2054 | 965mm | 901mm |
| 900 x 2100mm | Single | 886 x 2089 | FD60 | 54 | 825 X 2054 | 751mm | 687mm |
| 1000 x 2100mm | Single | 986 x 2089 | FD60 | 54 | 925 X 2054 | 851mm | 787mm |
| 1100 x 2100mm | Single | 1086×2089 | FD60 | 54 | 1025X2054 | 951mm | 887mm |
| 1400 x 2100mm | Leaf & Half | 1386 x 2089 | NFR/FD30 | 40 | 925/396 X 2054 | 878mm | 814mm |
| 1500 x 2100mm | Leaf & Half | 1486 x 2089 | NFR/FD30 | 40 | 925/496/2054 | 878mm | 814mm |
| 1400 x 2100mm | Leaf & Half | 1386 x 2089 | FD60 | 54 | 925/396/2054 | 864mm | 800mm |
| 1500 x 2100mm | Leaf & Half | 1486×2089 | FD60 | 54 | 925/496/2054 | 864mm | 800mm |
| 1800x2100mm | Double | 1786 x 2089 | NFR/FD30 | 40 | 860/860X2054 | 814mm | 750mm |
| 1900 x 2100mm | Double | 1886×2089 | NFR/FD30 | 40 | 910/910X2054 | 864mm | 800mm |
| 1800 x 2100mm | Double | 1786 x 2089 | FD60 | 54 | 860/860X2054 | 800mm | 736mm |
| 1900 x 2100mm | Double | 1886×2089 | FD60 | 54 | 910/910X2054 | 850mm | 786mm |
*please note a standard handle projection of 64mm is used in these calculations. For unequal pairs, the clear opening is calculated on the basis that the secondary leaf is kept locked.
Building Tolerance
All prepared openings should be equal in wall thickness at all points and plumb and square tolerances of +10/-0 in the width and +5/-0 in the height.


Dimensional Tolerances
All manufacturing processes require certain tolerances when working with natural materials that tend to move with climatic conditions. Lloyd Worrall work within the tolerances of BS4787 Pt.1 for internal and external wood doorsets, door leaves and frames.
| | |
| --- | --- |
| Variation Tolerance (mm) | Tolerance (mm) |
| in width & height of frame | +2.0 / -2.0 |
| in width & height of door leaf | +1.5 / -1.5 |
| in thickness of door leaf | +1.0 / -1.0 |
| bow in the length of door leaf | 4.0 |
| cup in width of door leaf | 2.0 |
| twist across door leaf | 6.0 |
| deviation in squareness per 500mm | 1.5 |
| deviation in load surface flatness per 200mm | 0.5 |
Step-by-Step Doorset Installation Video
We've created a toolbox talk installation video to show how to install our Interspec Doorsets.
Frame Assembly
It is very important that doorsets are installed correctly to comply with requirements of fire, acoustics etc. It is the responsibility of the installer to ensure the correct procedures are followed. The guarantee will be void if the criteria are not met.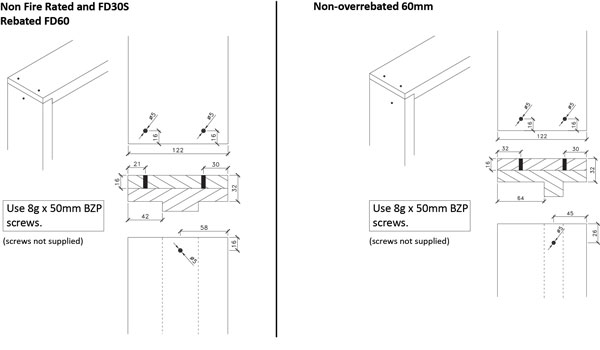 N.B. The jamb fixing should be fitted centrally in the doorstop as pictured above.
IMPORTANT: Hardwood frames have to be pre-drilled before fixing.
The sizes described in the Interspec timber doorset schedule indicate the overall frame size. All prepared openings should be equal in wall thickness at all points and plumb and square with tolerances of +10/-0mm in the width and +5/-0mm in the height. See Fig. A, A1 and A2.
Interspec doorsets are supplied with a moisture content of between 10% and 14%. The building should be dried out. Frames should NOT be built-in or installed as first fixings, as they are highly susceptible to intake of moisture, which will distort the frame and prevent the door from operating correctly.
For masonry walls, a template should be made to the exact opening dimensions or a timber sub-frame installed to the correct opening dimensions, square and plumb.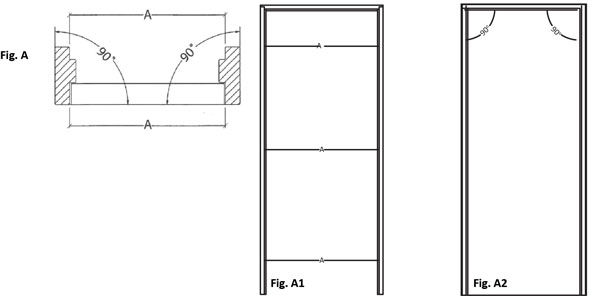 ]
Frame Fixing
Timber frames must be fixed back to either timber or stud partitions, or masonry walls, with fixings per jamb
set no greater than 250mm from corners and at centres not exceeding 600mm. See Fig. B.
Single frame head members generally to have 1 central fixing. Double frame head members to have 2 fixings. Where fitted in steel stud partitions the edge of the door opening must be filled with timber (we recommend minimum 50mm thickness) to provide stiffness and suitable fixing capacity. Behind each fixing, packers of solid fire resisting material should be applied. See Fig. B1.
Position frame in opening (if supplied with extension lining this is not required at this stage) and pack off at fixing positions across whole thickness of partition with timber packing pieces to take up tolerances and to locate frame square and plumb.
Frames should be drilled to suit plugs for 10 gauge screws in blockwork and studding.
Insert plugs into blockwork through frame fixing holes and push below surface and blockwork.
Fix frames at each fixing position with wood screw size 100mm x 10 gauge. Do not fully tighten at this stage. See Fig. B1.
Hang door leaf/leaves, adjust and tighten frame fixings using door leaf/leaves as a template until a perfect hang with correct tolerances is achieved.
The door gaps (Those between doors and the frame, and between leaves of double doors) shall be 1.5mm-3mm to contribute to the fire resistance. Gaps with smoke seals are to be 3mm. Gaps under the door should not exceed 8mm for fire resistance, although, if smoke control is required, these gaps should only be 3mm or an approved seal shall be included.
Where required position extension lining in frame groove to take up full thickness of partition and with open end flush with partition face all round. Fix securely with steel pins through door stop into tongue of extension lining.
Fix architraves at maximum 300mm centres with 30mm long steel panel pins.
Junction between door assemblies and surrounding structure
In order to maintain the fire resistance of a fire resisting wall or partition when fitted with a doorset the junction between the two elements should be adequately sealed.
Recommendations are detailed in BS 8214: 2016 for either.
a) Intumescent strip factory fitted to the back of the frame
b) Mineral wool packed to a depth of at least 10mm or
c) Intumescent paste or intumescent mastic.
d) Alternatively, other tested, assessed, or third party certificated solutions may also be utilised, using a product proven in such timber applications, and with reference to the correct depth of seal to suit the width of the gap between all and frame.