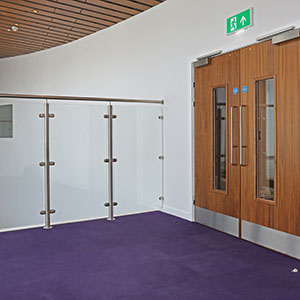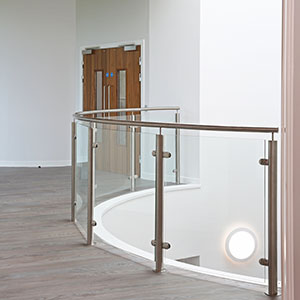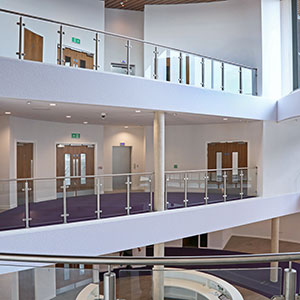 Sector: Health
Solution: Interspec Doorsets, Handrail and Balustrade
Location: Newcastle-under-Lyme
The Caudwell International Children's Centre (CICC) is the UK's first independent purpose-built facility dedicated to autism diagnosis, therapy and research. It is the first to take a multi-disciplinary approach on assessments, family support services and research into a wide range of autism interventions.
The 60,000 sq ft building has been meticulously designed by the charity and architect, in consultation with the charity's stakeholders, to provide a bespoke environment for disabled people, with a particular focus on the needs of children with autism and neurodevelopmental conditions.
The Client wanted to create a warm and welcoming building, creating something that didn't feel like it's another hospital. The aim was to create an environment where children had fun and wanted to revisit without the pressure of feeling they were being assessed.
Lloyd Worrall worked together with the Client and design team to provide a single source, fully integrated doorset, ironmongery and handrail and balustrade package to this ground-breaking building.
Lloyd Worrall supplied 150 severe-duty, fire-rated walnut veneer doorsets complete with stainless steel ironmongery. The walnut veneered doors achieve a homely feel while providing the high performance standard required for the Centres' unique environment.
We also supplied and installed the handrail and balustrade package throughout the building. Over 300m of 10mm toughened glass and Interspec stainless steel handrail and balustrade flows through the interior and exterior of the Centre.
The finished look is clean, bright and stylish and meets the stringent safety standards to achieve 1.5kN loading.
You may also be interested in: Breathing Space : Somerton House : North Ayrshire Community Hospital case studies.